Defect #26444
The new reworked 'jump to project' doesn't work in the themes
| | | | |
| --- | --- | --- | --- |
| Status: | Closed | Start date: | |
| Priority: | Normal | Due date: | |
| Assignee: | - | % Done: | 0% |
| Category: | UI | | |
| Target version: | - | | |
| Resolution: | Invalid | Affected version: | 3.4.1 |
---
Description
Hello,
I upgrade to the new 3.4.1.
If I select an alternate theme, the project list will printed completely in the blue headline.
No dropdown is shown.
This is happening in all themes, like 'alternate', 'classic' and my own.
It seems that the new feature #23310 isn't working correctly with the provided default themes.
Best regards,
Nils
History
No problem in my environment (Redmine 3.4.1, Alternate theme).
Perhaps clearing your browser's cache may fix the problem.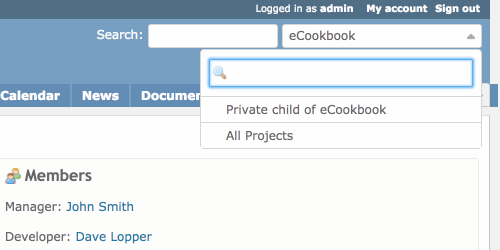 Can be closed cleaned all browser caches, its now working fine.
Category changed from Themes to UI
Status changed from Needs feedback to Closed
Resolution set to Invalid
Thank you for your feedback. Closing.