Plugin to generate and use issue templates for each project to assist issue creation.
Features¶
It works as project module.
Member who has "Manage Template" right can create issue templates based on trackers.

Also add help message for templates, because the way to use templates may be different between projects.

Member who has "Use Template" right can see the template and use them when creating new issue.
Please see for more details and usage.
Source / Download¶
Note¶
For Redmine1.4.x users, please checkout from support_0.0.2 branch.
Installation notes
Migration is required.
1. Copy the plugin directory into the vendor/plugins directory.
2. Do migration task. (e.g. rake db:migrate_plugins RAILS_ENV=production)
3. (Re)Start Redmine.
This feature now works as project module. So you need set permissions to manage/show/edit template at the redmine settings as administrator.
Changelog
0.0.5 (2012-12-25)
Compatible with Redmine 2.3.x, 2.2.x, 2.1.x, 1.4.x, 1.3.x.
Features¶
Enabled to load default template.
Show warning message in case no project trackers are assigned.
Feedback appreciated for default template feature.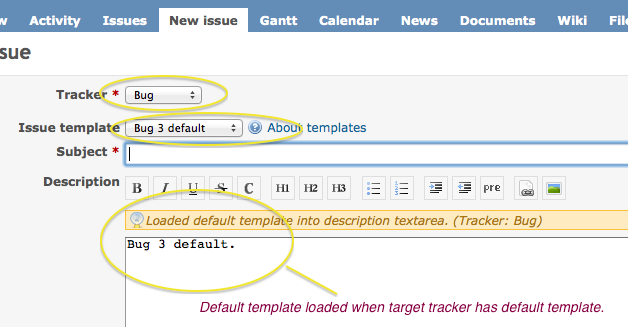 For Redmine 1.4.x users¶
Also Redmine 1.4.x support version was updated to 0.0.2.1.
Support reorder template. (Default template is not implemented.)
0.0.4 (2012-12-07)
Compatible with Redmine 2.1.x.
Support Redmine 2.1.x
(Now unsupport Redmine 2.0.x. Please use ver 0.0.3 for Redmine2.0.x)
Thak you so much, Viktor Muth, that gave me some feedback.
Now insert template text just after the text that is already in the
description field.
0.0.3 (2012-07-01)
Compatible with Redmine 2.0.x.
Compatible with Redmine2.0.x.
For Redmine1.3 or 1.4, please use version 0.0.2.x.
You can download from here:
Support Branch:
https://bitbucket.org/akiko_pusu/redmine_issue_templates/src/dc560b0161a513a391db8ecb88f0638a1599bc96/?at=support_0.0.2
0.0.2 (2012-04-05)
Compatible with Redmine 1.3.x, 1.4.x.