Feature #10873
open
Category:
Accounts / authentication
---
Description
Hello we have two users with the same first name and last name.
I've made simple patch to add new user format like "Lastname Firstname (Login)"
---
Files
This problem happened to me and I also ended up recreating your solution independently.
The better situation would be a check to only add the login if a duplicate was found. The problem with that approach is that you would have to traverse all the users to know if you had a duplicate.
Else, you could add a flag to the database when the user format had duplicates.
This is kind of an annoying bug, because lay users get a bit confused
Here goes goes a picture as an example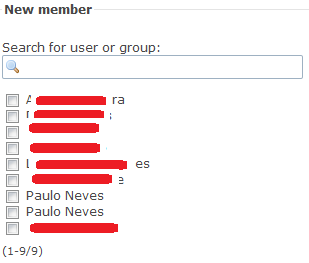 Updated by Toshi MARUYAMA over 9 years ago
Category set to Accounts / authentication