Defect #23746
closed
Task filter is not bringing the correct value of the field.
---
Description
The field is of type boolean.
Held filter and grouped by this field when the field value is "No" the group considers that it is empty.
The following case study where I am grouping by the "Eficácia Obtida?" and also bringing column as the information for the conference.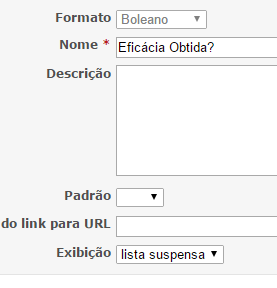 Thanks!
---
Files

Environment:
  Redmine version                2.6.1.stable
  Ruby version                   1.9.3-p194 (2012-04-20) [x86_64-linux]
  Rails version                  3.2.21
  Environment                    production
  Database adapter               Mysql2
SCM:
  Subversion                     1.6.17
  Git                            1.7.10.4
  Filesystem                     

Updated by Toshi MARUYAMA over 6 years ago
Status changed from New to Closed
Your Redmine and Ruby are too old.
Please reopen if you have a problem in maintained version.
Excuse me.
I found the solution on the task #18894 and has solved.
Thank you