Patch #4331
Second set of issue "Action Links" at the bottom of an issue page
| | | | |
| --- | --- | --- | --- |
| Status: | Closed | Start date: | 2009-12-03 |
| Priority: | Normal | Due date: | |
| Assignee: | Eric Davis | % Done: | 100% |
| Category: | UI | | |
| Target version: | 0.9.0 | | |
---
Description
The Action Links (Update, Log Time, Watch, etc) are really useful on the issue page but you have to go to the top every time you want to use them. This commit/patch adds a second set of links to the bottom of the issue's page. I had to rework how the WatchersController worked so multiple Watch links can be updated on the page.
---
Associated revisions
Revision 3119
Added by Eric Davis over 12 years ago
Add a second action menu to IssuesController#show. (#4331)
Will have the update, log time, watch, copy, etc buttons. Had to rework
how the watchers button works since it requires a unique DOM id for the
Ajax response. Also modified the WatchersController to be able to replace
multiple sections of the page, e.g. two Watch links.
History
Uploading example screenshot and patch.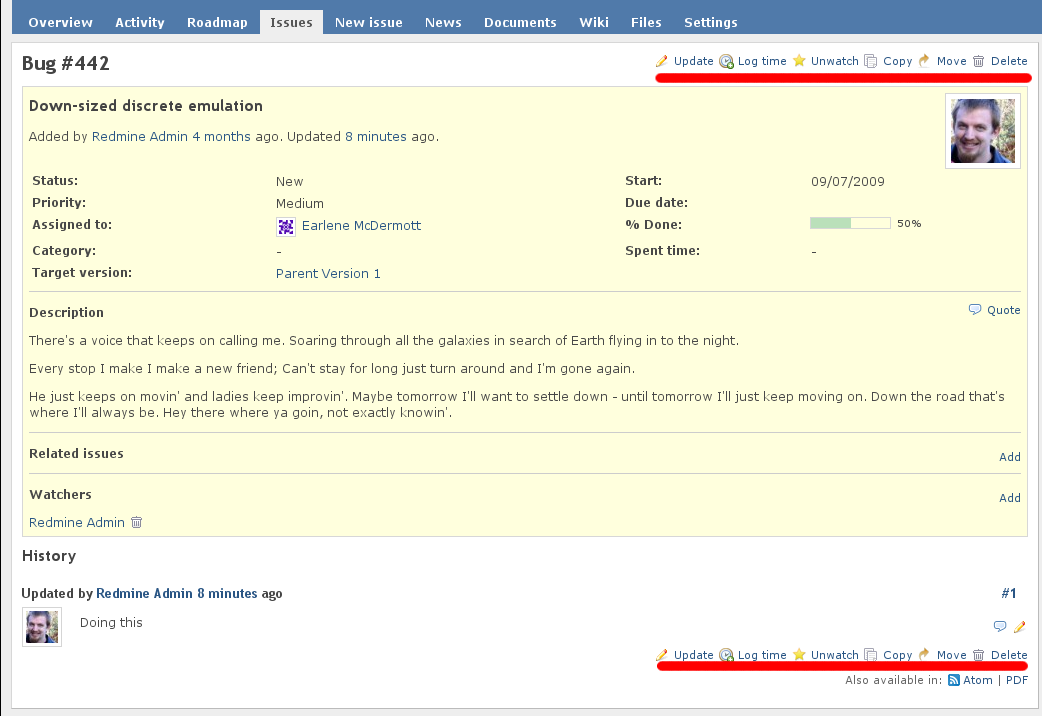 Status changed from New to Closed
Target version set to 0.9.0
% Done changed from 0 to 100