After upgrade to 2.2.3dev all issues rows became red
Added by Alex Guzun over 7 years ago
all red rows
normal and high priority is the same red
low priority issie are pink
what is wrong, please?
thank you
Replies (7)
I've been having this problem for a while now, too. I'm not a 100% sure, but I think it was the update from 2.0.3 to 2.1.0 when all the issues went red. I'm now using 2.2.3 (stable) and it's still not back to normal. Even new issues instantly become red.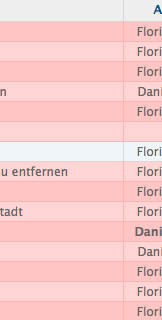 It looks like this. The brighter row in the middle is the highlighted one. I'm running Redmine using this configuration:

Environment:
  Redmine version                          2.2.3.stable
  Ruby version                             1.8.7 (i486-linux)
  Rails version                            3.2.12
  Environment                              production
  Database adapter                         MySQL
Redmine plugins:
  no plugin installed

I have no idea what happened here. Did anyone have and resolve this problem?
Thanks!
—f
I successfully migrated from 1.4.3 to 2.2. and don't have this issue.
I guess it has something to do with the priority and css classes but I can't imagine what went wrong...
What priority do your tickets have if you look at them in the database?
On the database the issues do have all the priorities available. That does look normal.
so any news, please?
this is really annoying
Not yet, sorry. You're right, this is pretty annoying.
Well, I figured out what was wrong with our installation. The theme (A1) we we're using was outdated. After installing the latest version everything's fine again now.
Hope this helps.
you are right, it is Theme ;)
Thank you
(1-7/7)