Patch #1121
Unable to edit issue descriptions. (Patched.)
| | | | |
| --- | --- | --- | --- |
| Status: | Closed | Start date: | 2008-04-27 |
| Priority: | Normal | Due date: | |
| Assignee: | - | % Done: | 0% |
| Category: | Issues | | |
| Target version: | 0.7 | | |
---
Description
Refers to #519
The merging of Edit / Update issue has also removed the ability for anyone to modify the Issue description.
Administrators and Project managers on our team need to update the description from time to time.
I'm providing a patch which allows users with delete issue privileges to edit the description, but I'd like some feedback from others and the Redmine team, for a better way to do this. (using the edit issue permission map properly perhaps?)
History
Actually, you can edit the description if you have the 'edit issues' permission.
Click on More to display subject and description fields: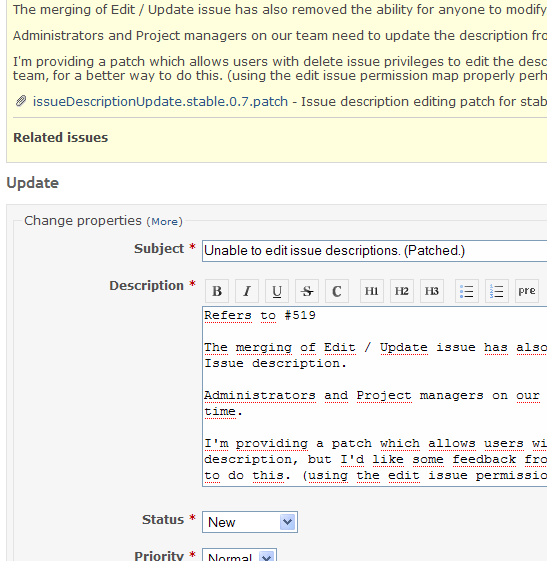 Thanks for pointing that out.