Defect #13829
| | | | |
| --- | --- | --- | --- |
| Status: | Closed | Start date: | |
| Priority: | Normal | Due date: | |
| Assignee: | - | % Done: | 0% |
| Category: | UI | | |
| Target version: | 2.4.0 | | |
| Resolution: | Fixed | Affected version: | |
---
Description
The favicon is not display very well with IE8. This bug existed also before the fix of #13687. IE6 is not affeced. Other IE versions I couldn't check.
I fixed this problem by saving icon with "VariIcon Revolve".
IE8 now: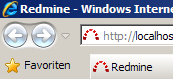 IE8 with updated favicon: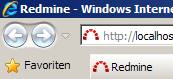 Updated favicon was also tested in Firefox, Safari and Opera.
---
History
Target version set to 2.4.0
Status changed from New to Closed
Resolution set to Fixed