Defect #17970
Wiki PDF export doesn't render macros
| | | | |
| --- | --- | --- | --- |
| Status: | Closed | Start date: | |
| Priority: | Normal | Due date: | |
| Assignee: | - | % Done: | 0% |
| Category: | PDF export | | |
| Target version: | - | | |
| Resolution: | Duplicate | Affected version: | 2.5.1 |
---
Description
This is something bugging me for quite some time now, but so far I haven't found a solution:
When you export a wiki site that uses macros to PDF the output doesn't show the rendered/parsed state but only the source-code which isn't useful at all (see attached images). The page should be rendered first, then be converted to PDF.
This is also related to another issue/feature request I have: #17238. There the same problems bugs me, but not for the PDF export, but for the search function.
---
History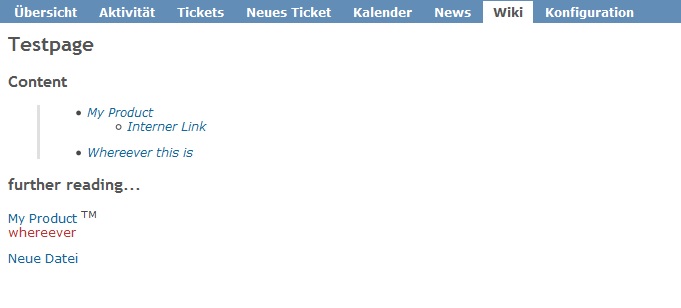 ↑ Wiki-page ↑
↓ PDF export ↓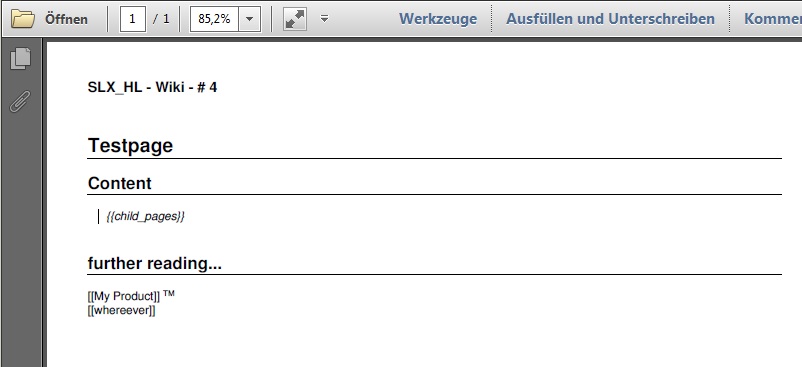 #2 Updated by Toshi MARUYAMA over 7 years ago
Status changed from New to Closed
Resolution set to Duplicate
#3 Updated by Toshi MARUYAMA over 7 years ago
Duplicates Feature #13051: Support any macro in (pdf) export for wiki's and issues added