Defect #21746
Truncate email not working
| | | | |
| --- | --- | --- | --- |
| Status: | Closed | Start date: | |
| Priority: | Normal | Due date: | |
| Assignee: | - | % Done: | 0% |
| Category: | Email receiving | | |
| Target version: | - | | |
| Resolution: | | Affected version: | 3.2.0 |
---
Description
I'm trying to get incoming emails truncated, to no avail.
my config:
redmine 3.2.0 stable
ruby 2.1.x
email IMAP fetching working fine via Rufus scheduler gem
In Admin/Settings/Incoming emails, I put ---cutoff---, which I then manually add to my test emails, but it gets imported & added to new Issues as well as all the lines below it, cf. screenshot: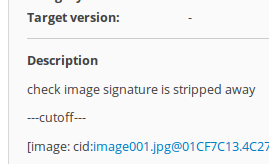 My redmine instance is set to use Markdown, so just in case this was related, I tested w/ Textile activated - but emails still not being truncated at all.
Last - I've been sending test emails using Gmail, in case it has an impact.
History