Patch #2459
Links and filters for project and author in activity and search pages
| | | | |
| --- | --- | --- | --- |
| Status: | New | Start date: | 2009-01-07 |
| Priority: | Normal | Due date: | |
| Assignee: | - | % Done: | 0% |
| Category: | UI | | |
| Target version: | - | | |
---
Description
The following patch adds links to Project and Author in Activity page, as well as filters for filtering Activity entries (it keeps all the current params passed except the project's or the author's name). Also, on the Search page it adds the same, but only for Project, since the Author field is missing (I may add in a updated patch).
Even though it's a minor change, I believe that Activity and Search pages are much more consistent and user-friendly now. See the attached screens for a better view of what this patch is all about.
Language files have been updated as well as the default stylesheet and it passes all tests.
Patch is against r2245 (real trunk revision is r2235).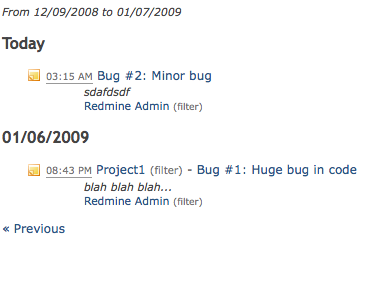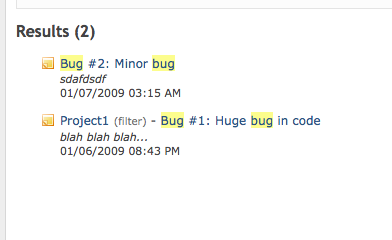 History
I think this is already included or I am wrong?