Defect #31285
Syntax highlighting does not work for attachments with .pl extension
| | | | |
| --- | --- | --- | --- |
| Status: | Closed | Start date: | |
| Priority: | Normal | Due date: | |
| Assignee: | Go MAEDA | % Done: | 0% |
| Category: | Text formatting | | |
| Target version: | 4.0.4 | | |
| Resolution: | Fixed | Affected version: | 4.0.0 |
---
Description
The new syntax highlighter Rouge that was introduced in Redmine 4.0.0 supports many languages including Perl and Prolog.
However, Redmine 4.0.3 does not highlight attachments with ".pl" extension. It is because the extension is used for both Perl and Prolog source codes and Rouge cannot determine the language only with a filename. As a result, Rouge raises Rouge::Guesser::Ambiguous exception (Ambiguous guess: can't decide between ["prolog", "perl"]).

irb(main):001:0> Rouge::Lexer.guess_by_filename('hello.pl')
Traceback (most recent call last):
Rouge::Guesser::Ambiguous (Rouge::Guesser::Ambiguous)

The problem can be easily fixed by replacing Rouge::Lexer::guess_by_filename with Rouge::Lexer::guess.
Index: 

lib/redmine/syntax_highlighting.rb


===================================================================




--- 

lib/redmine/syntax_highlighting.rb  (リビジョン 18114)




+++ 

lib/redmine/syntax_highlighting.rb  (作業コピー)




@@

 -85,7 +85,7 

@@


           # See also: https://github.com/jneen/rouge/pull/1078
           text = text.gsub(/\r\n?/, "\n")



-

          lexer =::Rouge::Lexer.guess

_by_filename(

filename)


+

          lexer =::Rouge::Lexer.guess

(:source => text, :filename => 

filename)
           formatter = ::Rouge::Formatters::HTML.new
           ::Rouge.highlight(text, lexer, CustomHTMLLinewise.new(formatter))
         end

[Before]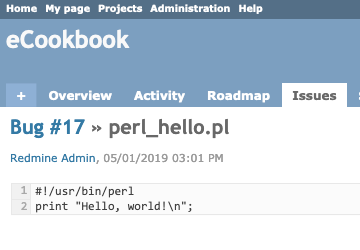 [After]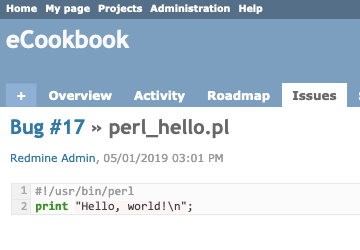 ---
History