Patch #33958
Jump to end of line in editor when starting list or quote
| | | | |
| --- | --- | --- | --- |
| Status: | Closed | Start date: | |
| Priority: | Normal | Due date: | |
| Assignee: | Go MAEDA | % Done: | 0% |
| Category: | UI | | |
| Target version: | 4.0.8 | | |
---
Description
Currently, when using the toolbar, the cursor does not jump to the end of the line for (un)ordered lists and quotes if the line is empty. The user therefore needs to manually move the selector. This behaviour can be improved by jumping to the end of the line when using one of these buttons for lists / quotes. The attached patch takes care of this.
Before:

After: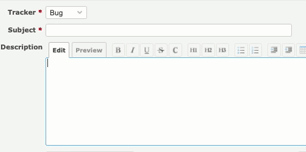 History
Target version set to 4.0.8
Setting the target version to 4.0.8.
Status changed from New to Resolved
Assignee set to Go MAEDA
Committed the patch. Thank you for your contribution.
Status changed from Resolved to Closed