Feature #13770
Show warning, when exported issues exceed the limit
Status:
New
Start date:
Priority:
Normal
Due date:
Assignee:
Jean-Philippe Lang
% Done:

0%

Category:
Issues
Target version:
-
Resolution:
---
Description
There should be warning, when exported issues (CSV/PDF) exceed the limit that is allowed to export.
Otherwise the manager won't notice that his missed some issues.
Results from #10915
---
History
Example: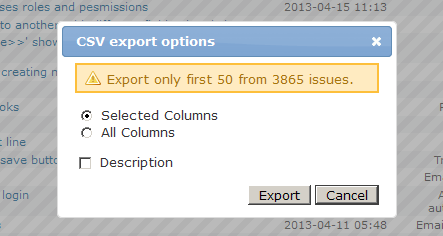 Hi Filou,
please see: #13774.
Best regards,
Daniel
Assignee set to Jean-Philippe Lang
Warning added for CSV export in r12663.