What this red line mean?
Added by Evgeny Zhiryakov over 8 years ago
Does anybody know what this red line mean?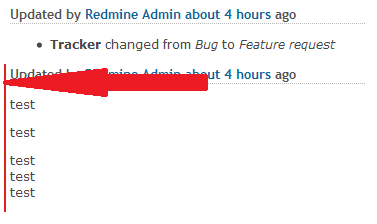 Replies (4)
Do you use a custom theme?
It would be helpful to understand where exactly the line is showing, I can't get that info from the screenshot...
The line is actually part of the default theme. It is located as a red left-border on private comments in issues (see #1554).
Evgeny, I have replaced your screenshot with a generic one considering the topic of this thread.
(1-4/4)