Edit Gannt plugin of Redmine
Added by Mickael Gautheron over 2 years ago
Hello,
I would like to use the Gantt option in Redmine to show different task of my project.
I would like to show :
- development,
- validation editor
- validation customer
Do you know how I can do to change show this 3 differents actions ?
On my attached file, I make 2 diffirent dev and 1 validation and all the color are green because all is ok and close. But I would like a difference between DEV and Validation on the attached file
Thanks you
Mickael
Replies (3)
It's not possible to change the color of the bars, yet.
If the validation task starts after the development task has ended i would link them together with a "Follows" relation.
Showing this relation can be enabled in the Options of the Gantt view so you have a better oversight about what belongs to each other.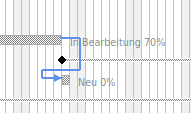 Hi,
Thanks you for this advice.
The goal is just to show the different steps so I think it could be nice to do what you said.
I'll try
Thanks you
Mickael
An additional benefit is also the fact that Redmine calculates the start and end date of your validation task based on the end date of your development task.
More information on issue relations can be found here.
(1-3/3)