restrict access to specific issue tracker
Added by nay christ about 13 years ago
Hi all,
I am new to redmine, which we are hoping to use at work for a variety of tasks, some of which are client facing. It looks great so far! One of the things we need the most is bug tracking but only if we are able to restrict user access to a specific tracker.
it seems that the out of the box parameters enable all or nothing. is there a solution or plugin so that certain roles will only be able to view support issues, while others will be able to view support and bugs etc?
any advice hugely appreciated,
nay.
Replies (3)
Hi nay,
You can do this out of the box, using different Projects and the 'public' option in project settings.
Create a project, using the public setting in the 'New Project' setup window¶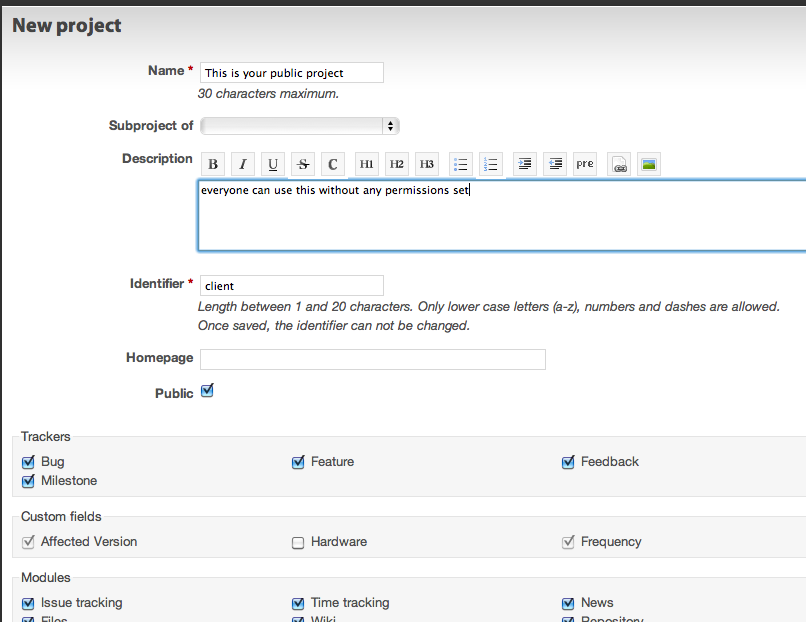 Create either a second project or a 'subproject' of the 'master project' that tracks bugs, make sure the project is not 'public' in its setup.¶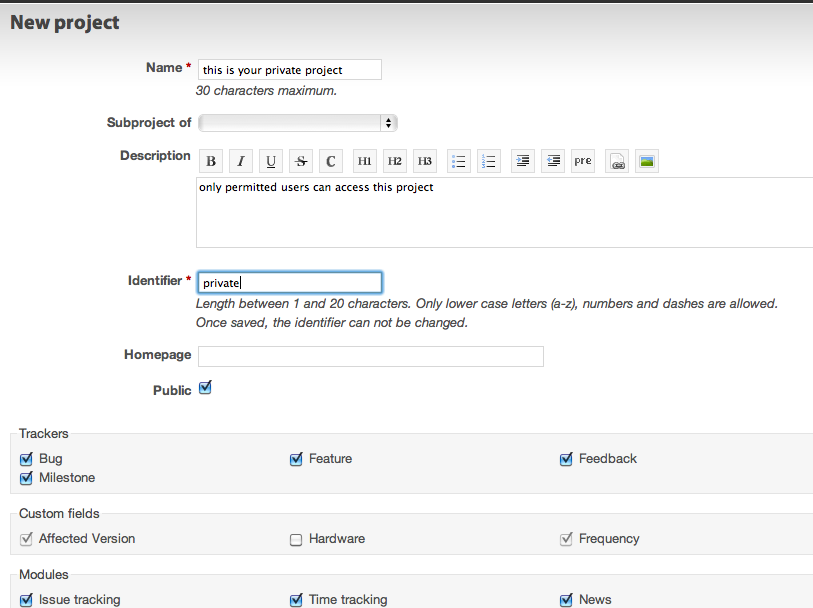 Grant your development users, engineers, etc. access to both projects, but your client only access to the initial project.¶
The subproject is not necessary, but is handy for organization.
We use a similar process with 0.8.x. We have about 15 testers, who work on probably 20 projects with external dev teams. We don't want the external devs to see everyone's project, so no project is 'public', with the exception of our HOWTO/Info Wiki that all users have read only access to, with the exception of my team members who need edit permission of the Wiki.
I can also restrict certain testers to certain projects easily, but they only have one sign-in to deal with.
Hope this helps.
Cheers,
Andrew Leaf
QA Manager
Destineer
Also, you can divide your trackers between these two, if so desired, disable 'bugs' in the public project, only allow support, etc.
Cheers,
Andrew Leaf
QA Manager
Destineer
thanks Andrew - that's perfect!
(1-3/3)