Defect #22196
Improve positioning of issue history and changesets on small screens
| | | | |
| --- | --- | --- | --- |
| Status: | Closed | Start date: | |
| Priority: | Normal | Due date: | |
| Assignee: | Jean-Philippe Lang | % Done: | 0% |
| Category: | UI - Responsive | | |
| Target version: | 3.2.2 | | |
| Resolution: | Fixed | Affected version: | 3.2.1 |
---
Description
On small screens, just like on the big ones, the issue history and the associated changesets are positioned next to each other. This looks strange, especially, if the the issue comments contain blockquotes.
The attached patch adds CSS rules to place them below each other on small screens.
History
The attached patch is targeted at trunk. It removes the floating and horizontal spacing and adds some vertical spacing.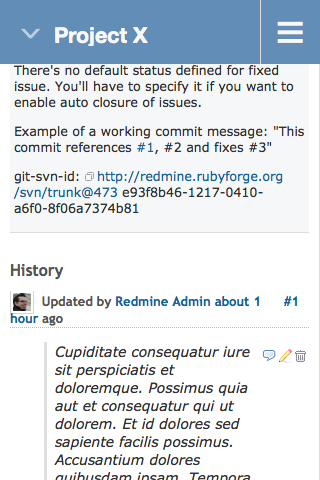 Target version set to 3.2.2
Status changed from New to Closed
Assignee set to Jean-Philippe Lang
Resolution set to Fixed