Defect #27975
CSV export of different language
| | | | |
| --- | --- | --- | --- |
| Status: | Closed | Start date: | |
| Priority: | Normal | Due date: | |
| Assignee: | - | % Done: | 0% |
| Category: | - | | |
| Target version: | - | | |
| Resolution: | Duplicate | Affected version: | |
---
Description
Default language was Russian (Cyrillic). And all issues written in Cyrillic. Export issues to csv was fine.
When we change default language to English, all our issues export as "???????".
"???????" in all encoding.
Open dialog of libreoffice to import csv: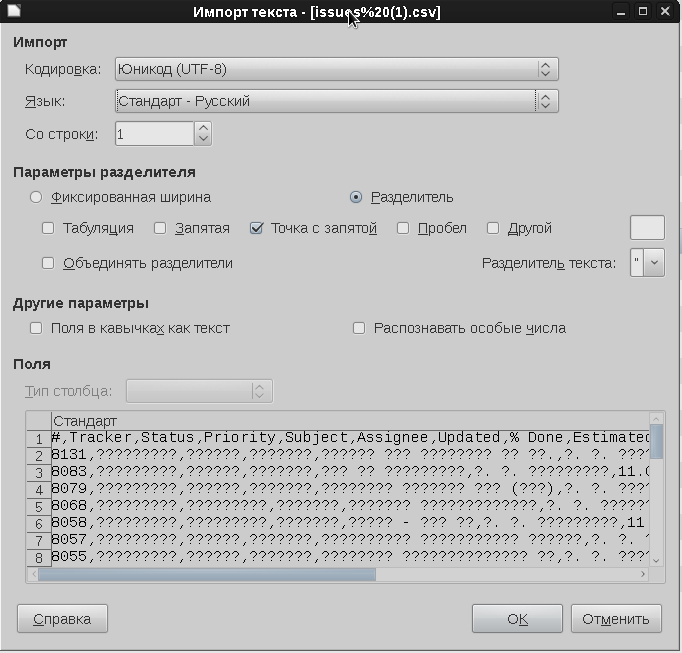 Environment:
Redmine version 3.4.2.stable
Ruby version 2.3.0-p0 (2015-12-25) [x86_64-linux]
Rails version 4.2.8
Environment production
Database adapter Mysql2
---
History
#1 Updated by Toshi MARUYAMA over 4 years ago
Status changed from New to Closed
Resolution set to Duplicate
Duplicate of #27213 and many others.
This issue will be addressed if the patch submitted in #26279 is merged. It implements a feature to switch encoding to UTF-8 when export issues to CSV.
Related to Feature #26279: Allow switching the encoding to UTF-8 when exporting to CSV added