Defect #32404
Group results is different between MySQL and PostgreSQL
| | | | |
| --- | --- | --- | --- |
| Status: | New | Start date: | |
| Priority: | Normal | Due date: | |
| Assignee: | - | % Done: | 0% |
| Category: | Issues filter | | |
| Target version: | - | | |
| Resolution: | | Affected version: | |
---
Description
Recently we've migrated a huge DB from MySQL to PostgreSQL. And noticed a small difference with Group results by function.
As you see the screenshot below, MySQL shows (blank) group first but PostgreSQL shows (blank) group last.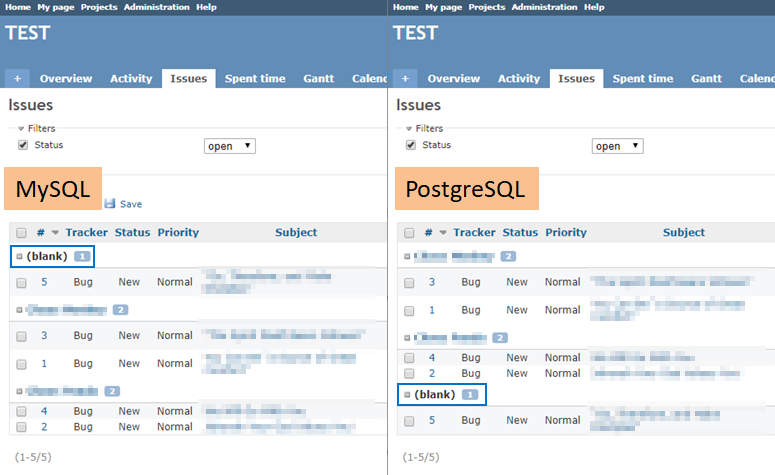 I guess it is because `NULLS LAST` is the default for ASC order in PostgreSQL.
Can you enforce `NULLS FIRST` in the SQL query to postgres?
https://www.postgresql.org/docs/8.3/queries-order.html
We believe that it would be very much appreciated since many of our users want to group issues by assignee to find unassigned issues. Also it would be nice if Redmine works consistently irrespective of db engines.

  Redmine version                3.4.11.stable
  Ruby version                   2.4.6-p354 (2019-04-01) [x86_64-linux]
  Rails version                  4.2.11.1
  Database adapter               PostgreSQL

Thank you.
---
History
I found a patch #25066 which is for a similar point but it is doing more than fixing the diff.
Related to Patch #25066: Sort order with null placement (NULLS FIRST, NULLS LAST) added