Defect #33275
Possible values field in list format custom field form is not marked as required
| | | | |
| --- | --- | --- | --- |
| Status: | Closed | Start date: | |
| Priority: | Normal | Due date: | |
| Assignee: | Go MAEDA | % Done: | 0% |
| Category: | Custom fields | | |
| Target version: | 4.0.8 | | |
| Resolution: | Fixed | Affected version: | 4.0.7 |
---
Description
when creating a custom field of format List, "Possible values" is not marked as mandatory - * is missing.
see screenshot - error when trying to save with empty "Possible values"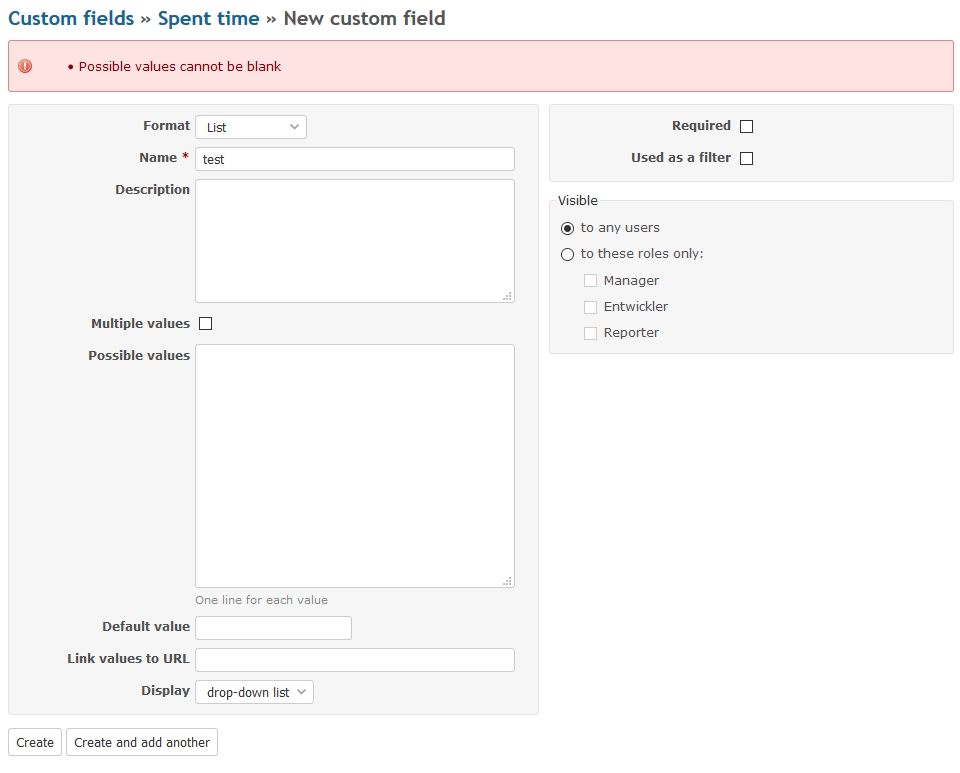 History
Target version set to Candidate for next minor release
Affected version changed from 4.1.1 to 4.0.7
Thank you for reporting the issue. It can be fixed by the following patch.
diff --git a/app/views/custom_fields/formats/_list.html.erb b/app/views/custom_fields/formats/_list.html.erb




index 675bbbf8d..f615e5057 100644




--- 

a/app/views/custom_fields/formats/_list.html.erb




+++ 

b/app/views/custom_fields/formats/_list.html.erb




@@

 -1,5 +1,5 

@@


 

<p>




-

  

<%=

 f.text_area 

:possible_values

, 

:value

 => 

@custom_field

.possible_values.to_a.join(

"

\n

"

), 

:rows

 => 

15

 

%>




+

  

<%=

 f.text_area 

:possible_values

, 

:value

 => 

@custom_field

.possible_values.to_a.join(

"

\n

"

), 

:rows

 => 

15

, 

:required

 => 

true

 

%>


   

<em

 

class

=

"

info

"

>

<%=

 l(

:text_custom_field_possible_values_info

) 

%>

</em>


 

</p>


 

<p>

<%=

 f.text_field(

:default_value

) 

%>

</p>



Target version changed from Candidate for next minor release to 4.0.8
Subject changed from Custom fields / Format List - "Possible values" is not marked as mandatory (cosmetic) to Possible values field in list format custom field form is not marked as required
Status changed from New to Closed
Assignee set to Go MAEDA
Resolution set to Fixed