Defect #36887
copyImageFromClipboard function failed to generate a unique file name
| | | | |
| --- | --- | --- | --- |
| Status: | Closed | Start date: | |
| Priority: | Normal | Due date: | |
| Assignee: | Marius BALTEANU | % Done: | 0% |
| Category: | Attachments | | |
| Target version: | 4.2.6 | | |
| Resolution: | Fixed | Affected version: | |
---
Description
Hello,
The function copyImageFromClipboard is NOT generating unique file name but always uploading image.png.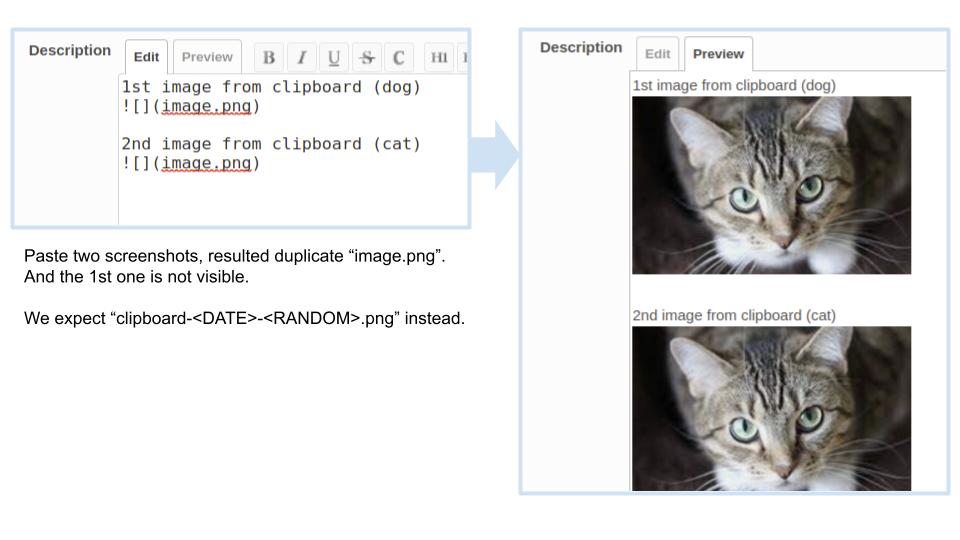 I've confirmed the problem in chrome 99.0.4844.74, edge 100.0.1185.29, firefox 98.0.2.
This is our environment.

Environment:
  Redmine version                4.2.5.stable
  Ruby version                   2.6.9-p207 (2021-11-24) [x86_64-linux-musl]
  Rails version                  5.2.6.3
  Environment                    production
  Database adapter               PostgreSQL
  Mailer queue                   ActiveJob::QueueAdapters::AsyncAdapter
  Mailer delivery                smtp

Possible reason:
According from the public/javascripts/attachments.js#L283-L291 I felt that the variable 'filename' is defined but not used. Can it be the reason of this behavior?
Thank you very much for your support.
---
History