Defect #37566
The number of the ordered list in the project description is not displayed and the indentation does not match the unordered list
| | | | |
| --- | --- | --- | --- |
| Status: | Closed | Start date: | |
| Priority: | Normal | Due date: | |
| Assignee: | Go MAEDA | % Done: | 0% |
| Category: | UI | | |
| Target version: | 4.2.8 | | |
| Resolution: | Fixed | Affected version: | 4.2.7 |
---
Description
How to reproduce
1. create a project and its child project.
2. description source is as follows.
Parent Project


This is a test project

* list appearance test
* list appearance test
* list appearance test

1. apple
2. banana
3. cherry

Child Project


* item1
* item2
* item3

1. tokyo
2. osaka
3. nagoya

3. visit to /projects.
Perhaps #14302 is the same problem
Before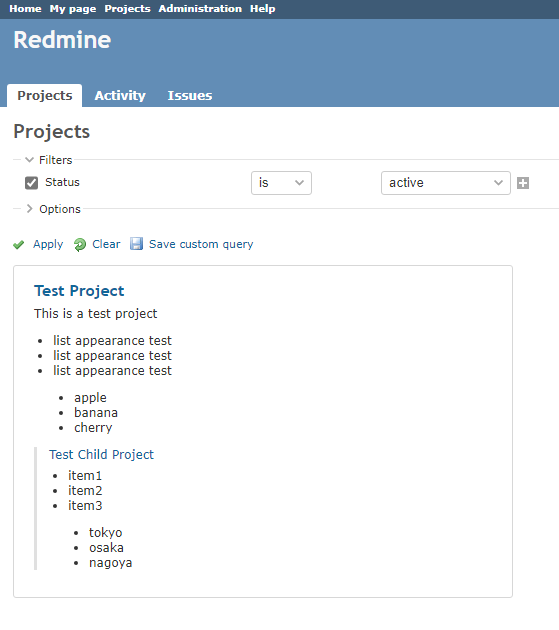 After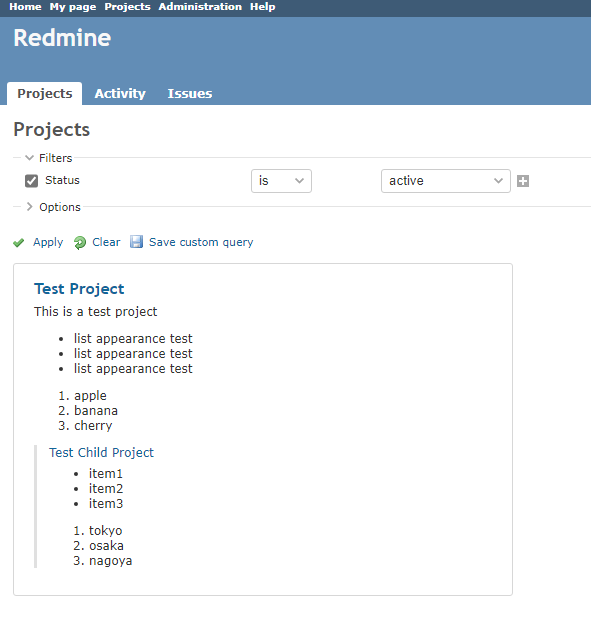 History
Status changed from New to Confirmed
Target version set to 4.2.8
Affected version changed from 5.0.2 to 4.2.7
The reported issue is reproducible when the current text formatting is Markdown.
Setting the target version to 4.2.8.
Status changed from Confirmed to Resolved
Assignee set to Go MAEDA
Resolution set to Fixed
Committed the fix. Thank you for fixing the issue.
Status changed from Resolved to Closed