Feature #4996
More issue information on Move Issue page
Status:
Closed
Start date:
2010-03-05
Priority:
Normal
Due date:
Assignee:
-
% Done:

0%

Category:
UI
Target version:
-
Resolution:
Fixed
---
Description
On Movie Issue page, something like this: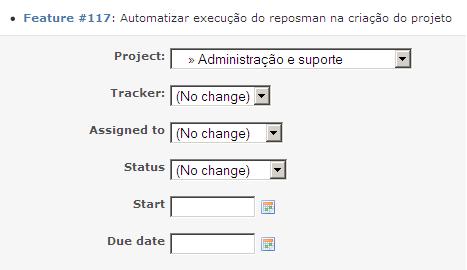 the fields with value (No change) don't inform what are their values in the issue.
For example, "Assigned to" is (No change), but I don't know who it's assigned to.
I suggest to put, maybe in front of the field, its value.
---
History
Status changed from New to Closed
Resolution set to Fixed
The feature to move an issue was integrated with the issue update form by #4769 (Redmine 1.4.0) and now we can see current field values when selecting destination project.
Related to Feature #4769: Ability to move an issue to a different project from the update form added