A revolutionary Interactive Redmine Gantt Chart¶
A FREE version is in an online demo at https://www.redmine-x.com/#bottom2 & the downloadable version is at https://www.redmine-x.com/redmine-gantt-chart. If you need to test the plugin in your Redmine environment, just contact Redmine X for the evaluation version.
This plugin brings time planning to another level. It works with any Redmine theme, however, it looks best with our RedmineX theme that is a part of the Upgrade plugin. Just see https://www.redmine-x.com/redmine-upgrade.
Key Features Of The Redmine X Gantt Chart Plugin¶
create & update tasks & milestones with ease
embrace drag & drop functionality for quick planning
see task priorities
execute updates with zero effort
filter the same way as in /issues
zoom to a day, week, month, or year
move projects including sub-projects & tasks
double-click task to reveal popup with additional params
--> see all features at https://www.redmine-x.com/redmine-gantt-chart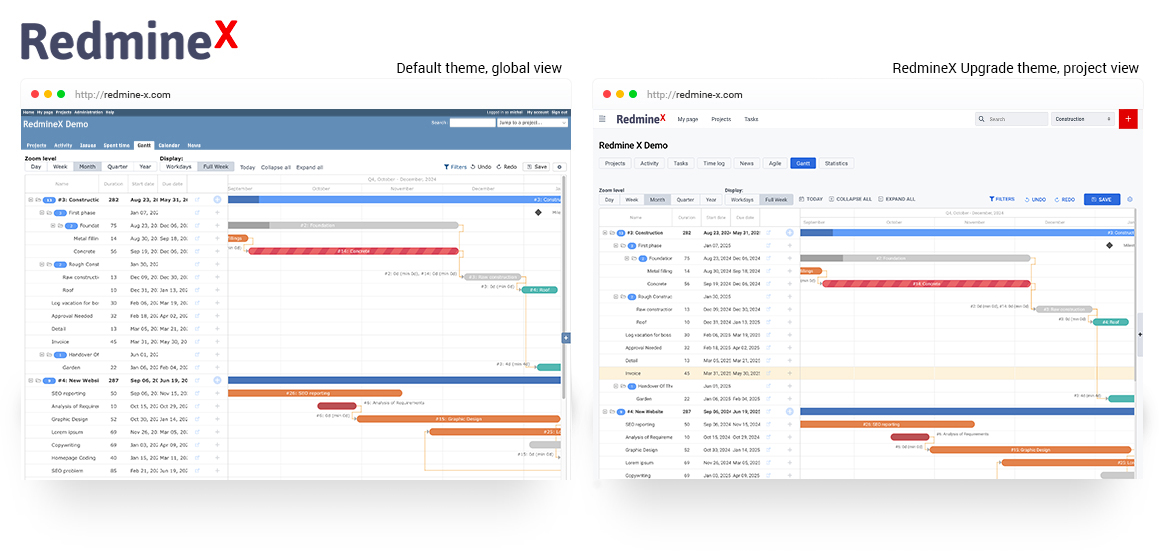 Drag & drop Redmine Gantt chart plugin with advanced filtering & a feature of moving projects including sub-projects and tasks. This is Redmine X gantt chart plugin, the most advanced Gantt for Redmine.
Users Appreciate¶
inline editing of the task name
quick access to tasks using a modal or a direct link
mouse-enabled canvas moving
visual representation of issue priorities is a priceless feature for precise planning
moving of project including all sub-projects & tasks
Using task relations & delays, you can precisely plan the essential time needed between two tasks and if necessary, you can export the Gantt chart to PNG, PDF Excel, or MS project.
Thanks to the "Move project" feature, you can actually change the start day of a project without changing all task dates separately. This is a one-of-a-kind feature never seen in Redmine before --> you can effortlessly change the project start date even if you don't use the Gantt chart on a regular basis.
Genuine Client Review¶
RedmineX Gantt does not conflict with other Redmine plugins. After spending a lot of time, effort, and money on testing several commercial versions of Gantt plugins, I found that the only plugin that can stop our Redmine users from complaining is the RedmineX Gantt. I strongly recommend buying RedmineX Gantt.
Charlie Chang
R&D Division Director at Aplex Technology
Installation notes
Follow standard Redmine installation:¶
unzip the archive and copy it to redmine_root/plugins or copy the archive in the same location and perform the unzip command in the console
from redmine_root run bundle install
from redmine_root run bundle exec rake redmine:plugins:migrate RAILS_ENV=production
restart Redmine
Changelog
2.1.2 (2022-09-24)
Compatible with Redmine 5.0.x, 4.2.x, 4.1.x.
New version of RedmineX Assets with new features for RedmineX Resources.
Adjustments for the Default theme
General styling updates
Requirements: RedmineX Assets v2.1.2.
2.1.1 (2022-08-04)
Compatible with Redmine 5.0.x, 4.2.x, 4.1.x.
Structure of the code updated - standalone functions in modules converted to static classes, function headers added where missing.
Requirements: RedmineX Assets v2.1.1.
2.1.0 (2022-04-28)
Compatible with Redmine 5.0.x, 4.2.x, 4.1.x.
User names are now presented in the format which corresponds to the Redmine settings.
Tasks cannot be assigned to a user who has a role that does not allow task assignment (due to role settings in Redmine).
Tasks are now readonly when user has no rights to edit them.
Project total estimated and spent time removed from the project tooltip, because calculation of these values took very long time => loading time of the gantt was significantly improved.
Lightbox now can be closed using Escape key (see Rx Assets).
Support for Redmine v5.0.0.
Authorization of gantt controllers fixed and updated (403 forbidden response fixed for project shift).
ArelFunctionsHelper method names were updated in order to correspond to the new names in ArelFunctionsHelper in Rx Assets.
Priority is now correctly set to the default Redmine priority when the new task lightbox is opened.
Negative duration and incorrect end date fixed after a new task is created.
Subtask filter error fixed - If a parent task is filtered out but its subtask is not, the subtask will be loaded from the backend but will not appear in the gantt because it has the wrong parent (the task that was filtered out).
Requirements: RedmineX Assets v2.1.0. which is included
2.0.2 (2022-01-21)
Compatible with Redmine 4.2.x, 4.1.x.
Export can now be enabled or disable in gantt. This is a workaround for situations where the js export library is unavailable on the dhtmlx servers and it significantly delays gantt loading.
Bug fixes
If there was no task in the project, the project was not displayed in the gantt at all, because the displayed projects are obtained from the tasks. Now the project is displayed in the local gantt (but not in global).
Requirements: RedmineX Assets v2.0.2. which is included
2.0.0 (2022-01-13)
Compatible with Redmine 4.2.x, 4.1.x.
Support for individual user or group calendars including:

Detailed settings of global calendar and user calendars with the option to select public holidays of the specified country (RedmineX Assets plugin).
Display of non-working days (public holidays and vacations) for each task (according to the assigned user).
Shift linked tasks according to their individual calendars.
Shift projects with respect to the task calendars.

Zoom levels reworked:
Name of the levels now correspond to the time unit displayed on the timeline.
econd timeline unit comes always from the higher zoom level (e.g. week for the 'day' level).
Quarter timeline unit added.
Support for shared milestones added:

Shared milestones are displayed for all projects they are shared with.
On the global gantt, a shared milestone can be displayed in multiple projects. In this case, moving one ** of these milestones will move all the others.
New milestone filter added to the 'Filters' box to show all, only open, only closed or selected milestones.

Bug fixes
Toolbar height fixed when sidebar is closed.
Requirements: RedmineX Assets v2.0.0. which is included
1.4.1 (2021-09-17)
Compatible with Redmine 4.2.x, 4.1.x.
Toolbar is now smaller (in height) and therefore the gantt window can be larger.
RedmineX Gantt is now compatible with the following themes: Default, A1, Abacusmine, Alternate, Boostmine, Circle, Classic, Highrise, Minelab, Purplemine2, Zenmine.
Bug fixes
Translations error fixed (locale strings were not distributed between RedmineX Gantt and RedmineX Resources correctly - resources didn't work without gantt).
1.4.0 (2021-09-02)
Compatible with Redmine 4.2.x, 4.1.x.
Gantt is now split into two plugins (RedmineX Assets v1.0.0 - required & included)
1.3.2 (2021-08-19)
Compatible with Redmine 4.2.x, 4.1.x.
Shared milestones are now displayed in all projects with which they are shared.
Displaying of closed milestones can be set in the plugin administration.
Scheduling in the grid fixed.
Milestone warning fixed when whole project is shifted.
1.3.1 (2021-07-22)
Compatible with Redmine 4.2.x.
Loading of users from the server optimised.
Loading of issues from the server optimised.
1.3.0 (2021-07-12)
Compatible with Redmine 4.2.x, 4.1.x.
Gantt can be now filtered using Redmine query. Query can be saved and edited using the Redmine modal or loaded from the Redmine sidebar
Projects can be moved along with all its issues and milestones to the future or past
New issues are not crossed out in the grid (opened flag is set for them, when they are created)
Only links that connect tasks that are both visible on the chart, will be loaded from the server
Styling issues concerning toolbar and sidebar fixed
1.2.0 (2021-06-04)
Compatible with Redmine 4.2.x, 4.1.x.
parent task of a task can be changed within the tasks project in the modal
parent milestone of a task can be changed within the tasks project in the modal
added Collapse all/Expand all buttons (to expand/collapse all items in the grid)
grid items with children now show the number of subitems (next to the name)
if there are unsaved changes on gantt, users receive a warning before they leave the page
all dates on gantt are now in the same format as in Redmine (they respect the Redmine settings)
if the tasks end date gets after its milestones effective date, a warning is displayed
assignee selection is now via select2 select box and the items (assignees) in the box are hierarchized (Group -> User)
1.1.0 (2021-05-11)
Compatible with Redmine 4.2.x, 4.1.x.
full support of derived parent tasks
major style upgrade
move to task and select task when task is clicked
added the number of tasks displayed in the grid
full support of PG DB
SQL queries rewritten in AREL
task can now be assigned in the modal, including the author
1.0.1 (2021-03-22)
Compatible with Redmine 4.1.x.
fixed: user in a different timezone could encounter saving error (end date is before start date)
fixed: priority ids were incorrectly saved and after reload of gantt, some tasks could not be saved
scroll to today function fixed (after gantt is loaded, position is set as near to today date as possible.
1.0.0 (2021-03-18)
Compatible with Redmine 4.1.x.
User ratings