Defect #13949
Handling of attachment uploads when 'Maximum attachment size' is set to 0
| | | | |
| --- | --- | --- | --- |
| Status: | Closed | Start date: | |
| Priority: | Normal | Due date: | |
| Assignee: | Jean-Philippe Lang | % Done: | 0% |
| Category: | Attachments | | |
| Target version: | 2.4.0 | | |
| Resolution: | Fixed | Affected version: | 2.3.0 |
---
Description
After setting maximum attachment size to 0,
with expecting unlimited size of attachment, (expected behavior)
updating issue with attachment seems to upload file, but actually it doesn't make a link to the file.
Here's steps to reproduce.
Administration > Settings > General > Maximum Attachment Size : set to 0
Issue > Update (or New Issue) > choose files
choose any file and click 'choose'
progress bar shows for awhile (seems file is uploaded)
after all, "not found" message comes out other than description input field.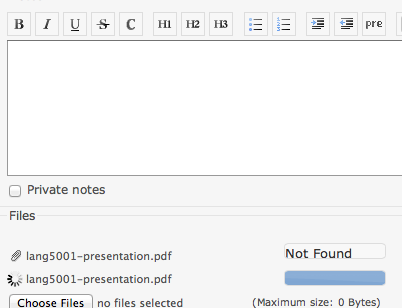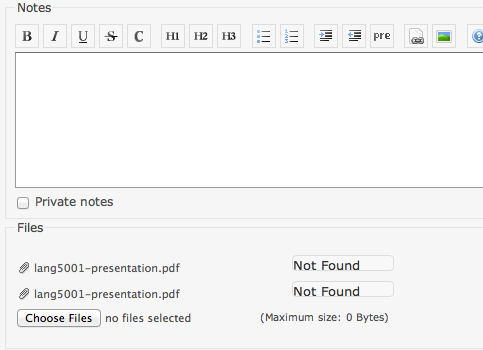 ---
History