Defect #19243
Ambiguous date format options (eg. 03/03/2015) in settings
| | | | |
| --- | --- | --- | --- |
| Status: | Closed | Start date: | |
| Priority: | Low | Due date: | |
| Assignee: | Jean-Philippe Lang | % Done: | 0% |
| Category: | Administration | | |
| Target version: | 3.1.0 | | |
| Resolution: | Fixed | Affected version: | 2.5.2 |
---
Description
Today I decided that my dates were back to front (US M/D/Y rather than my preferred D/M/Y) and I went in search of the option to change this. It is March 3rd today and these are my options: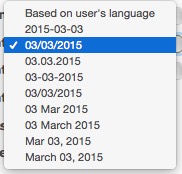 Needless to say I have no idea what to choose!
History
Target version set to 3.1.0
Subject changed from Ambiguous date format options to Ambiguous date format options (eg. 03/03/2014) in settings
Status changed from New to Closed
Assignee set to Jean-Philippe Lang
Resolution set to Fixed
Fixed in r14048. The dropdown now shows "03/03/2014 (dd-mm-yyyy)" instead. Thanks.
Subject changed from Ambiguous date format options (eg. 03/03/2014) in settings to Ambiguous date format options (eg. 03/03/2015) in settings