Defect #32500
Spent time report csv shows translation missing text if custom fields are involved
| | | | |
| --- | --- | --- | --- |
| Status: | Closed | Start date: | |
| Priority: | Normal | Due date: | |
| Assignee: | Go MAEDA | % Done: | 0% |
| Category: | Time tracking | | |
| Target version: | 4.0.6 | | |
| Resolution: | Fixed | Affected version: | 4.0.5 |
---
Description
To reproduce the error:
Create a spent time's custom field (list format) with two values. In this example it was named Perfil, with values Perfil1 and Perfil2
Log some time, with different Perfil values.
Go to Spent Time > Report
Group by custom field Perfil
The report on the page looks fine, but if you export it using the CSV link it shows a message at first column, first row: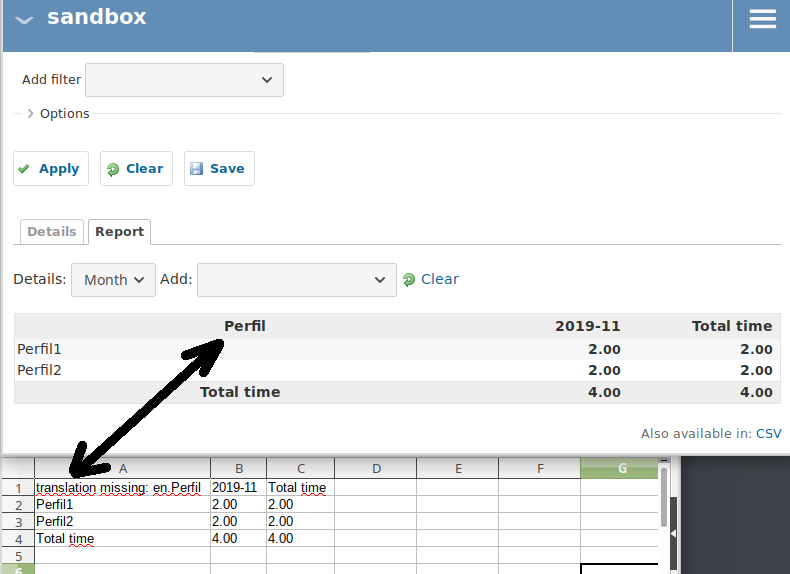 If you choose another language the message will change accordingly: translation missing: es.Perfil, translation missing: gl.Perfil, etc...
My environment:


Environment:
  Redmine version                4.0.5.stable
  Ruby version                   2.5.7-p206 (2019-10-01) [x86_64-linux]
  Rails version                  5.2.3
  Environment                    production
  Database adapter               Mysql2
  Mailer queue                   ActiveJob::QueueAdapters::AsyncAdapter
  Mailer delivery                smtp
SCM:
  Subversion                     1.12.2
  Cvs                            1.12.13
  Git                            2.19.1
  Filesystem                     
Redmine plugins:
  no plugin installed

History