Drafts plugin v0.1.1
Added by Jean-Baptiste Barth almost 13 years ago
As an answer to #2910, I needed something quickly for one of my redmine instances at $WORK. People using Redmine there are posting quite long issues and they often lose everything if they close their browser or click on a bad button/link.
I tried to implement something to save drafts regularly. It uses a dedicated table, saving drafts as yamlized dumps of the object, so 1) it can be extended to other models, 2) it's not intrusive at all, and it doesn't require to change 50 lines of code in the core (which may have been the case if we just added a "draft" boolean column in the Issue table).
The plugin is called "redmine_drafts", and it's available on github : http://github.com/jbbarth/redmine_drafts. Don't know if it's an artwork, but it works for me and my colleagues for a couple of months now.
Here's a screenshot :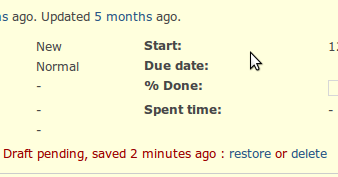 Any question or feedback would be welcome.
Replies (13)
(1-13/13)