Defect #16239
Search does not return all the results
| | | | |
| --- | --- | --- | --- |
| Status: | Closed | Start date: | |
| Priority: | Normal | Due date: | |
| Assignee: | - | % Done: | 0% |
| Category: | Search engine | | |
| Target version: | - | | |
| Resolution: | Fixed | Affected version: | 2.3.1 |
---
Description
Binami stach 2.3.1-0 on Windows 7 64 bit.
I was looking for issue #1028 and ran a text search for "Calibration" in the title only. The issue did not show up. It also said that there were 27 issues found but only 11 were displayed (see two search results screens).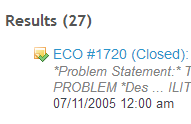 When searching for "Calibration cfm", the issue showed up as part of the search. There were also 6 issues displayed and it said it found 6 issues. I also ran a filter for subject containing "calibration" and it returned 27 issues including the issue I was looking for.
Expected behaviour
I would expect the first search to find my document and to display all 27 of the documents found.
---
History