Defect #30434
Line height is too large when previewing files with syntax highlighting if the line terminators are CRLF
| | | | |
| --- | --- | --- | --- |
| Status: | Closed | Start date: | |
| Priority: | Normal | Due date: | |
| Assignee: | Go MAEDA | % Done: | 0% |
| Category: | Attachments | | |
| Target version: | 4.0.2 | | |
| Resolution: | Fixed | Affected version: | 4.0.0 |
---
Description
The height of some lines is too large if the line terminators of the file are CRLF. Only Redmine 4.0.0 is affected. No problem in prior versions.
In the following screenshot, The height of line 1 and 2 is too large.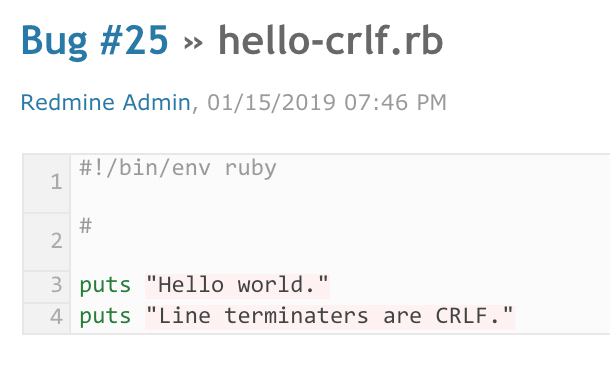 ---
Associated revisions
Revision 17847
Added by Go MAEDA 12 months ago
Line height is too large when previewing files with syntax highlighting if the line terminators are CRLF (#30434).
Patch by Yuichi HARADA.
History