Feature #31355
Bookmarks and recently used projects for the project jump box
Status:
Closed
Start date:
Priority:
Normal
Due date:
Assignee:
Go MAEDA
% Done:

0%

Category:
Projects
Target version:
4.1.0
Resolution:
---
Description
This patch aims to make the project jump box (project selector in top right corner) more useful especially for installations / users with many projects.
adds a bookmarking feature to the project overview page

users can bookmark any project they have access to
bookmarked projects will be rendered in a separate section in the jump box, on the top.

the 3 most recently used projects will be rendered in a second section of the jump box. That number may be changed in the user's account preferences

bookmarked projects are excluded from that list

the last section of the jump box holds any other projects that would have been rendered in the jump box originally but are not already shown in one of the previous sections.
all 3 sections will be filtered according to a given query string in the search box
favorites and other projects lists are rendered as trees, recently used projects as a flat list ordered by time of last use
recently used and bookmarked projects are stored as serialized arrays of project IDs in the user preferences.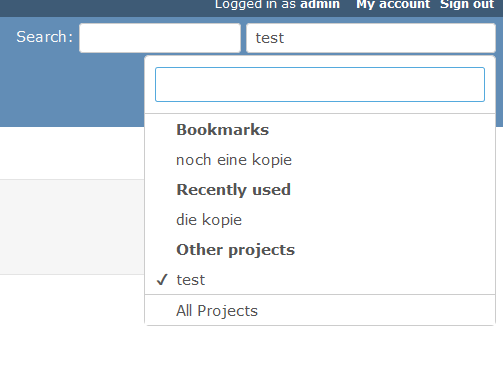 ---
Associated revisions
History