Patch #4776
Totals for Estimated Time
| | | | |
| --- | --- | --- | --- |
| Status: | Closed | Start date: | 2010-02-09 |
| Priority: | Normal | Due date: | |
| Assignee: | - | % Done: | 50% |
| Category: | Issues | | |
| Target version: | - | | |
---
Description
We use the estimated time field extensively to both manage our work and reward our developers. We have developed two patches for Redmine that I find indispensible. One was previously posted and I thought had been accepted into the trunk, but does not seem to be there in 0.9. The other we have created to improve the (fantastic) new 'Group By' functionality.
The older patch gives Total Estimated Time for all issues on the page, and all issues across all pages, at the bottom of all issue lists:

The second provides a total of the estimated times of issues in a sub group: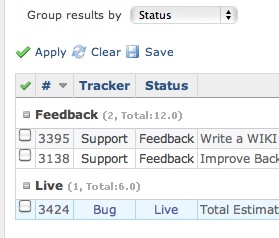 We are not a Ruby shop - the code can probably be improved. If so please post back here!
PS: I tried to post a patch here once before and it was an embarrassing failure. Apologies in advance if this does not work out again!
---
History